In the age of online Bitcoin casinos, players want more than fast withdrawals and peer to peer transactions. Players need to be able to trust their Bitcoin casino of choice. To earn this trust, dozens of Bitcoin casinos use provably fair algorithms to ensure the validity of each dice roll or turn of a card. Provably fair Bitcoin casinos are the safest place to gamble online and this page ranks the best provably fair Bitcoin casinos from the highest to lowest rated. Each of the casinos listed here feature their own impartial review written by one of our gambling experts. For those interested in how provably fair algorithms work, read on…
What Does Provably Fair Mean For Crypto Casinos?
Cryptocurrency is a technology-driven currency and is also the backbone of Bitcoin casinos. To explain the term provably fair casino, let's define what provably fair means to a gambler. This algorithm checks and verifies a Bitcoin gambling site's fairness towards the players. Provably fair casinos reassure players, making crypto gambling more alluring.
What is a provably fair random number generator?
A provably fair random number generator (RNG) is precisely what it sounds like. The mathematics that goes into producing the randomness of your dice rolls or card shuffling can be proven to be fair – by you. Bitcoin casinos that choose to adopt a provably fair RNG will provide all of the various details to allow you to check – for yourself – that the roll was random.
Verifying a provably fair casino bet
First we will look at how to verify a casino dice roll. The terminology for doing so will appear confusing at first, however this will all be explained further in this article. We will use the popular Bitcoin casino, Bitsler for our demonstration.
1. Place a bet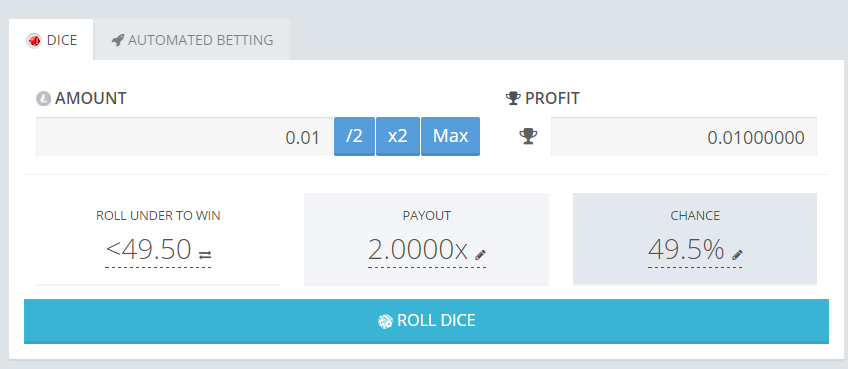 In this case we have made a 0.01 BTC wager with 49.5% odds.
2. View the bet



By clicking on the bet ID we are able to see more information about our winning bet.
3. Click the "provably fair" tab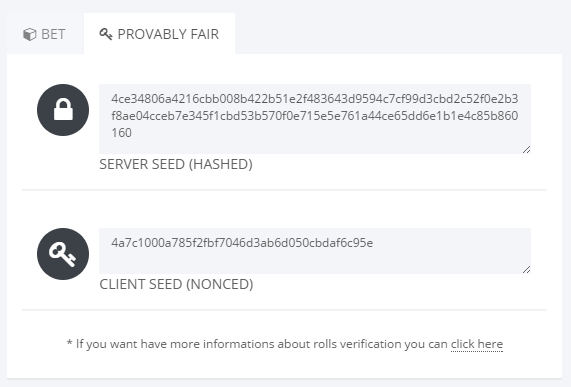 This tab gives us the information that we need to prove that the dice roll was fair. This data is then copied and pasted into a verifier, such as DiceSites.com's Bitsler Verifier. In Bitsler's case, some additional information is found under "account > provably fair" which we will also need to use. Detailed instructions are provided by the verifier you choose.
4. Verify the casino bet



We can now see that our Bitcoin bet was valid. The verifier told us that they were able to generate a matching server seed (explained later). If the dice roll predicted by the verifier (36.11) matches the dice roll we made (36.11), then we know that our bet was truly random.
Once you are happy that a game is provably fair, you can then bet freely, knowing each roll has not been tampered with by the Bitcoin casino. For those who are interested in the technical side of provable fairness, read on.
How do provably fair casinos work?
This question is highly complex, and is difficult to answer in a single article. Further resources can be found at the bottom of this page. However, we will provide a fairly detailed introduction to provably fair Bitcoin betting. To first understand provable fairness, we need to take a brief look at hashing algorithms.
Hashing
A hash algorithm takes an input of data and outputs a string of seemingly random letters and numbers. Data of any size and length can be put into a hashing algorithm, and the output given is always the same length (the length depends on the hashing algorithm used). The most popular and most secure hashing algorithm today is SHA-256 (secure hashing algorithm – 256 bits). Let's show a quick example of the output of a SHA-256 algorithm for 2 sets of data:
Input: provably fair
Output: ffc224677596698a2d257e6cd5e22ded461e6664d4fd4cd0f9ec297aaa387c51
Input: ProVabLy fair
Output: 67953c6366ac3c82d1f32cc9ff7a79951d4a41d9c188794c40f83be52e7b1f12
As you can see, the data input above have the same meaning. However, the data changes ever so slightly through the use of uppercase letters. This slight change in data leads to an enormous change in the output. Hashing algorithms are widely used for password security (you could not determine the input i.e. password from the output i.e. the hash) but they are also great for measuring changes to an input.
The relevance of the example above is to show the purpose of SHA-256 in a provably fair algorithm. If the output is at all different from what is expected from the input, then we know that the input (the random dice roll or random card shuffle) must have been manipulated!
Seeds
Bitcoin casinos that offer provably fair gambling will always provide a server seed and a client seed for you to verify. These seeds – combined with a nonce (an arbitrary number, typically the player's bet number) – are all hashed together for validation. A verifier like the one above will look at the hashes of these combinations, and will match it against the expected hash. If the hashes match, then we know without doubt that the roll was fair and that no tampering with the randomness had occurred.
Provably fair Bitcoin casinos are changing our relationship with randomness, helping us to bet in safety without fear of rigging. A Bitcoin casino that offers provably fair validation is more secure (in its randomness) than any real-world or traditional online casino. For that reason, we always recommend that players consider provably fair betting sites ahead of any others. We have provided our list of the best provably fair Bitcoin casinos immediately below. Further reading on this topic can also be found in the list of links below.
Additional resources
Stake.com – one of our favorite provably fair casinos
Show More.