Is My Bitcoin Casino Legit? 5 Warning Signs That It's Not
The online casino industry has always been plagued with a reputation for scam or rogue operations swindling money from unsuspecting gamblers.  In recent years this has improved with the regulation and licensing by some top gambling authorities and the introduction of Bitcoin to online gambling.
However, there are still operations that are not what they seem.  It is imperative for gamblers looking to play online to investigate the casino they want to use to ensure that it is legitimate.
The question is what are the most salient factors that need to be considered when assessing the validity of the casino in question.
A casino that offers top-notch games, generous bonuses, and fast payouts is always key for a great experience but this doesn't necessarily mean that the casino is authentic.
It is advised to dig a little deeper before making the first Bitcoin deposit.

Software Providers
The safety of online Bitcoin casinos is mostly reliant on the software providers used by the casino. It is worth researching which software providers the casino is partnered with to get an idea of the legitimacy of the games on offer.
The software providers should be certified and tested by an independent third-party auditing system to ensure that their software is fair and safe for gamblers.
The two most trusted third-party entities that carry out such auditing are eCOGRA and TST Labs (Technical Systems Testing Labs). They process software checks to ensure all games' payouts are fair and are granted in compliance with international gaming standards. There should be a link on the bottom of the casino's Home Page.
This certification should be updated several times a year to maintain its relevance.
A few of the top software providers in the industry that ensure their games are of the highest, provably fair standard are Microgaming, NetEnt, iSoftBet, Habenero, GameArt, Endorphina, Spinomenal, RTG and Booming Games.
Licensing
While a casino may boast about being licensed it is fair to say that not all licenses or licensing authorities are equal. Some jurisdictions are slightly more casual around their regulatory diligence than others.
It is a significant indicator as to the legitimacy of a casino where it is located, as this determines who manages the licensing and regulation. The top licensing authorities include Malta Gaming Authority, UK Gambling Commission, and the Alderney Gambling Control Commission while those based in Curacao and Costa Rica are less stringent with their regulatory laws.
The reason this aspect of a casino is so important is because a licensed casino is likely to have followed the basic rules and regulations to avoid losing their gambling license. Players also then have an entity to fall back on should there be an issue around the casino's actions.
When joining a new online Bitcoin casino check the bottom of the homepage for the list of terms and conditions for the trading license to make sure they are legitimate.
Provable Fairness and Security
All games available on the particular casino should use a Random Number Generator (RNG) which allows gamblers to check each result at any given time to ensure fairness.
Often scam casinos will alter games to favor the house or they may tweak their free games to favor players to encourage them to play the lesser fair games.
Other security measures to look for are SSL (Security Sockets Layer), and TLS (Transport Layer Security) certificates as well as HTTPS (Hypertext Transfer Protocol Secure) protocol.
Most casinos use 128-SSL encryption and there is said to be a one in 339 000 000 000 000 000 000 000 000 000 000 000 chance of hackers cracking the code which means there is more chance of winning the EuroMillions lottery jackpot four times in a row.
This combination of security measures ensures that games are fair and both the players personal and financial information are secure.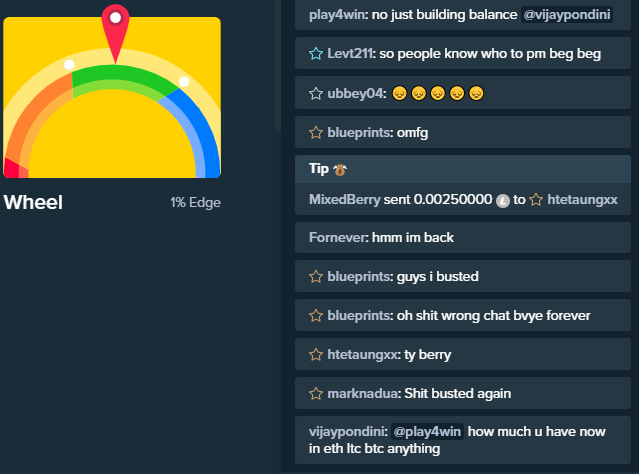 Community
With today's web-based communication and social channels it is very easy to investigate the various online Bitcoin casinos. Members of the gambling community are quick to post about their online gambling experience good or bad.
When checking out an online Bitcoin casino, prospective gamblers can go onto the various threads on Reddit, Discord, Telegram, Twitter, BitcoinTalk.org etc to see what has been said.
This is the first-place players will go if they have not been paid or have been scammed in any way.
Customer support
Customer Support is a key feature of every online casino to be considered legitimate regardless of what format it is provided either live chat, e-mail or a telephone number.
Casino websites without such a support option are not seen to be reliable as players are not provided with a chance to contact the casino's staff in case of queries.
Besides there being a Support option, it also needs to be responsive to be deemed relevant. The quality of the customer support, as well as its speed,  is not to be underestimated. Responses should be almost instantaneous to resolve problems the gambler may be having which results in maximum satisfaction for the gambler.
Casinos that do not even bother to answer queries should not be seen to be trustworthy enough to risk depositing Bitcoin and should be avoided.
Terms and Conditions
Every online casino has its own terms and conditions that serve as a reference on how to use their platform. But as with all things fine print, often gamblers don't read them before depositing their first amount of Bitcoin.
It is highly recommended that players read all the terms and conditions to understand what their rights are and what the wagering requirements are. Knowing the rules under which a casino operates can end up saving a lot of time and money in the long run.
Things to look out for are to make sure the terms are original as a lot of less upstanding casinos plagiarise their T&C's which indicates a lack of care and thoroughness. Which is not an entity that players want handling their finances.
The next step is to analyze the content and what it means for the individual player. Red flags include wagering restrictions on non-bonus cash, low withdrawal limits, and long cashout periods.
There should also be a copy of the casino's Privacy Policy posted on the site. Players are always recommended to check on every casino's individual Privacy Policy in order to learn if there any restrictions on players from specific countries and if yes, what are the restrictions.
This document also provides information on payment methods accepted by the casino.
Conclusion
 Before depositing precious Bitcoin, it is a good idea to go through all the above steps to ensure an optimized gambling experience at a legitimate online Bitcoin casino. It is also a good idea to use any free games offered to test the casino out and get a taste of what the casino is about. Once the due diligence is complete then jump in and enjoy every bit of the fun that online Bitcoin gambling offers.