Best Bitcoin Dice Games
Bitcoin dice is considered to be the foundation of the Bitcoin Gambling industry. Billions of satoshis are wagered on Bitcoin Dice every single day, making it one of the most lucrative in the house of online casinos.  The cryptocurrency casino market as we know it today, largely owes its thanks to Bitcoin Dice.
Bitcoin Dice had a big hand in the development of the concept of Provably Fair gambling, which is checking the statistically likely outcome of every roll, eliminating the possibility of manipulation.  Added to this, the secure and unique games, along with free cross-border transactions and low house edges (as low as 0.1%) makes Dice one of the most thrilling games that Bitcoin Casinos have to offer.
There are a wide variety of domains and casinos you can choose to play this electrifying game and here we will break down 5 of the most popular.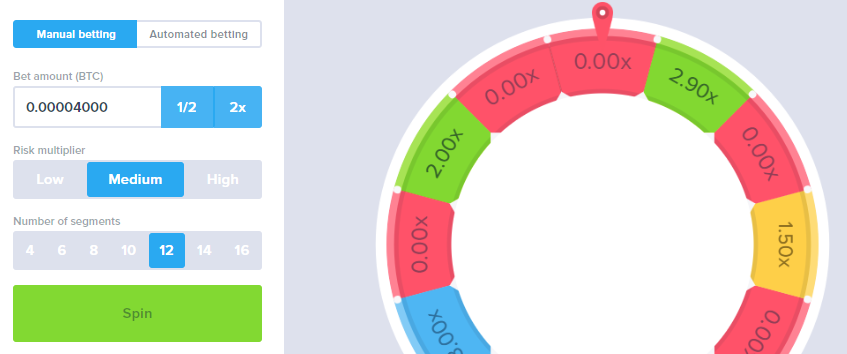 Stake
Stake is a modern and refreshing offering in the market giving players the latest in Bitcoin dice.  You will be able to visit their list of games which offers a welcome variety, as well as a conversation with other players in the chat room.  While a relative newcomer, being established in 2017, Stake is already making a name for itself as the go-to casino for the young guns and high rollers.
The games on offer at this innovative casino can be divided into new and old.  There are the classic casino favorites and the newer pioneering Stake games.  Even with the old classics though, have had new life breathed into them with fantastic graphics and characters.
Stake's big drawcard in terms of features is the Faucet that offers generous free Bitcoin.
This casino and its customer orientation are nowhere more evident than with their Customer Care department.  The professional team is available 24/7 and 365 days of the year.
This casino has it all.  From a fabulous faucet to innovative games and a lively chat room for its players, as well as an 'always' available customer care center.  Stake is set to rise to the top of their game, despite their relative infancy.
View our full Stake review here.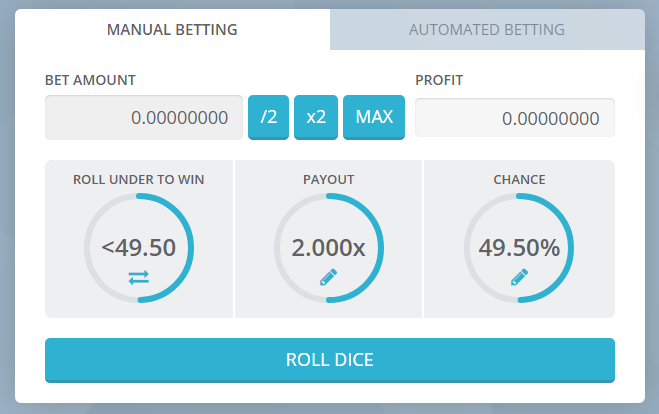 Bitsler
The one thing that stands out about Bitsler is its wide variety of player inclusive offerings.  Founded in 2015, Bitsler has put much thought into the gaming experience.
Members of this completely inclusive community are rewarded for being returning players with a milestone feature that may not offer players a financial reward, but they will be rewarded with bragging rights.
Another opportunity is to invest in the house bankroll.  Depending on how much you invest and how much others lose, you will be paid profit accordingly.
Further to this, Bitsler, encourages player interaction via a chat feature which allows players to discuss strategy, share jokes and celebrate wins.  This forum has allowed this to become one of the biggest community Dice sites out there and ensures that Bitsler stands out from the rest.
Further inclusivity comes via the open ledger where players can have access to all bets wagered.
Last but definitely not least is the Level feature.  The more you wager the higher your level becomes.  In turn, the percentage offered from your referrals lost wagers is increased and you get increased faucet bonuses.  This is a very smart and unique way that Bitsler ensures the ongoing growth of their site by encouraging older players to stay and to recruit new members.
View our full Bitsler review here.

MegaDice (Satoshi Dice)
MegaDice, otherwise known as Satoshi Dice, was the forefather of every single Bitcoin game out there today.  It started in 2012, this casino or games domain, was the original game that brought about Provably Fair and anonymous gambling.  Second to this, MegaDice offers a fast withdrawal time, superior to any other similar domain.
Mega Dice has introduced other games to its domain.  Including MegaSlot, which is played on a standard slot format.  Also added to their ever-growing list of offerings are a Wheel of Fortune game, Mammoth Slot and a Poker Game.
Mega Dice is a winning bet for many players and has paid out over 4,000,000 BTC since inception.  You are able to play multiple bets per transaction, but each bet is required to land an entirely different number.
You are able to use Bitcoin and Bitcoin Cash to deposit and withdrawal at Mega Dice.  Transactions are swift but do incur a minimal fee of 0.0001BTC on transactions.
Mega Dice has a comprehensive FAQ section to answer all queries.  If you have something more specific to query there is an email address for easy interaction.
Thes stalwarts of the Bitcoin online casino industry have set a high benchmark for other newer such sites.  Their games are varied and they pay out often to their visitors.
View our full MegaDice review here.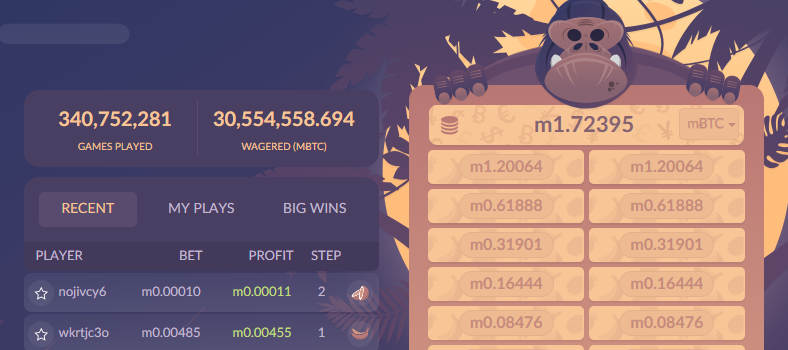 Bitkong
This is the party animal of the Bitcoin Dice crew.  Immediately upon clicking on their site, you are thrown the challenge "It's a jungle out there… Are you brave enough to bet your luck and Bitcoin against the abominable Bitkong"  Challenge accepted!
Bitkong is what it says it is, which is really refreshing.  It is fun, 100% Provably Fair and simply addictive.  There is only one game but it offers some fantastic rewards.  Once you are over the hurdle of registration you will access the main interface, which is simply designed.
The game that is on offer is a bit like a minesweeper type game, the similarity being that if you choose the field that does not have your fruit you will lose your whole bet.  A great feature here is you are able to take the prizes you have earned so far, as opposed to waiting to the end of finishing all 10 rows.
Bitkong makes use of a Random Number Generator (RNG) to ensure all games are, as they call it, 'verifiably fair.'
Bitkong is a Bitcoin Casino but you have the option of having a converter display your Bitcoin value as USD, EUR, GBP or CNY.  Bitcoin is displayed in Bits or mBit.
Bitkong, a mobile-friendly site, hosts an array of Bonuses such as a No Deposit Bonus, as well as free Bitcoin in the form of a Faucet, and an excellently rewarding affiliate program.
Customer Support can be accessed through email. The email address is [email protected]. There is no live chat or telephone support available. However, BitKong has social media accounts on Twitter and Facebook and a thread on the Bitcointalk.org forum.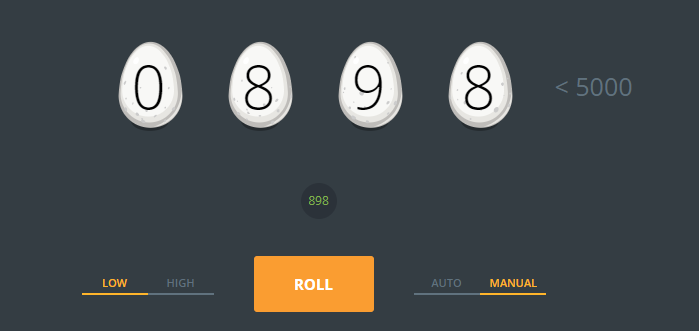 Duck Dice
The first thing that strikes a player when registering on this site is the very well laid out interface.  It is not as confusing for newcomers as a lot of other Bitcoin dice sites.  It also takes you through an optional tutorial on using the interface – much needed on most of the Bitcoin Dice sites and won't leave you feeling like a duck out of water!
It is also refreshing that this casino offers a variety of cryptocurrency to play with including:
ETH, DASH, DOGE, LTC, XMR, BCH, BTC and they offer plenty of opportunities to earn free crypto through a highly competitive Faucet and affiliate programme.
There are many other added features that include a "Rains" feature which triggers a coins giveaway, autoplay, tip feature, promotions and of course being mobile friendly.
Duck Dice offers a fantastic support section that is neatly laid out for your convenience.  In this section, there are a host of sections that are covered to help allay any queries you may have.  Below the section is a community chat feature which will allow you to interact with other ducklings.
All in all, players should find Duck Dice to be a great interactive site where a sense of community is strong.
View our full DuckDice review here.
What About The Rest?
The growth of Bitcoin online casinos has been meteoric since the birth of the Blockchain platform, and the game that was the start of it all was Bitcoin Dice.  This game has not looked set to be slowing down anytime soon as more and more gamblers punt on the high energy and thrilling game.  As time goes on we look forward to seeing even more innovative ways of playing Bitcoin Dice and where providers will take it to the next level.  In the meantime, gamblers can enjoy the never-ending gift of bonuses and promotions that Bitcoin Dice casinos keep offering to make their gaming experience outstanding.
For a deeper dive into the world of Bitcoin Dice, see our list of reviews here.